Our Story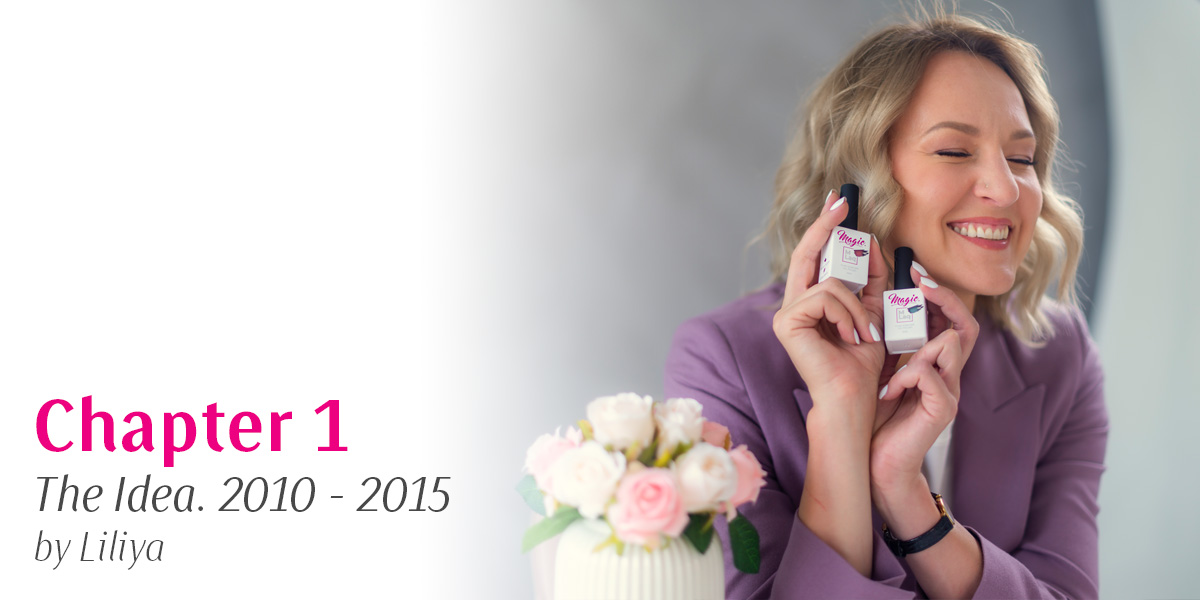 Chapter 1. The Idea. 2010 – 2015
The Magic Gel System story began when I decided to leave my career in Finance.
I was working on Bay Street at one of the largest investment management firms in Canada, but my just heart wasn't in it.
So I bit the bullet, took the pay cut, finished a Nail Tech course, and started working at a small nail salon in Milton, Ontario.
Over the next year, I became an independent Nail Technician, worked hard to get fully booked and started my journey to become a Nail Tech Educator.
Once I started teaching with various brands, I realized that there is a big problem.
The products I was using simply did not perform to my standards. I just could not honestly tell my students that these are the products they needed.
I reached out to manufacturers with constructive feedback about their products, but nothing changed.
That's when I realized that if I wanted a product to perform the way it ought to, I needed to take the bull by the horns and make it myself.
After a lot of searching, I found a chemist in Germany who could manufacture what I needed in Germany. In 2015, I began to introduce these products to my students.
I started with One Coat Coverage gel paints that could be used universally for different types of work – full coverage, ombre, hand painting, and line art. I also launched a limited lineup durable builders that my students can rely on.
So that's how it all started…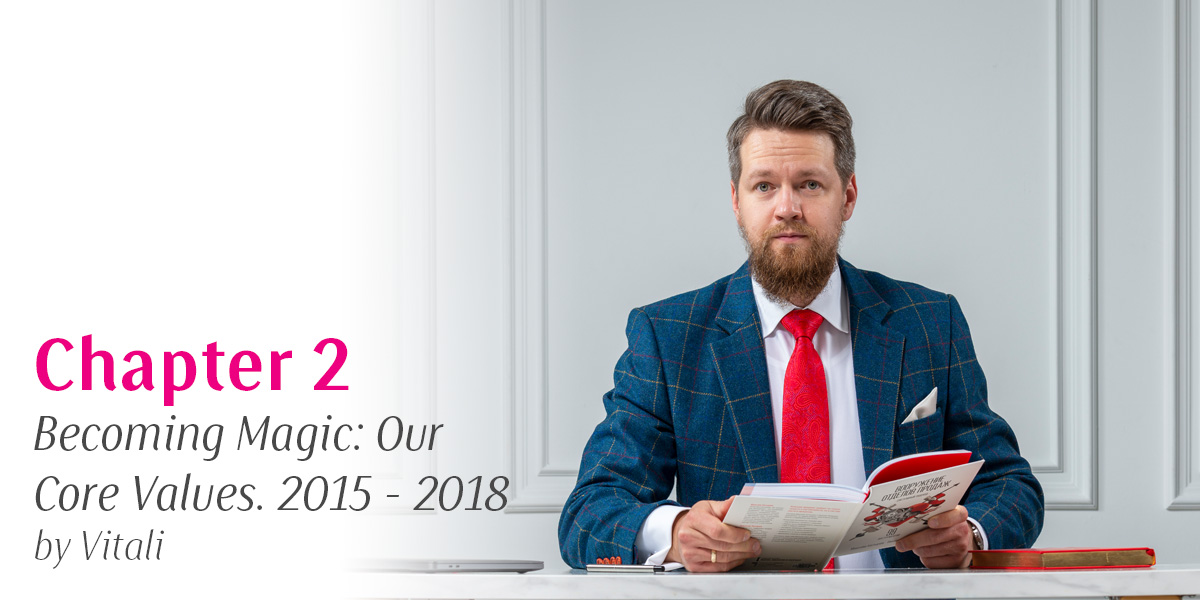 Chapter 2. Becoming Magic: Our Core Values, 2015 – 2018
I was running a marketing consulting practice, so I was naturally Liliya's go-to for point solutions, such as website development, product packaging, and advertising (well, also because I am her brother).
It was clear that Liliya was onto something with these quality products. But the problem I saw was that only a select number of her students even knew they existed.
I drew up a quick plan, met with Liliya at a local café (thank you Aroma café), and offered up a crazy idea:
"Let's create our own nail brand and give nail techs what they don't yet have, but really need."
The next few years consisted of nothing less than many sleepless nights and days chock full of branding, packaging, video tutorials, and tradeshows. (We nearly got kicked out of our first biggest spa show in Canada, but that's a story for another time…)
Business was booming. And despite my experience and all the business books I devoured over the years, I had never managed a business that was growing so fast. I had lots of questions but no one to ask them to.
I needed to find a catch-all answer to the same question that cropped up daily: "What do we do in this situation?"
I rephrased that question into: "If I were the client, what would I want the business to do?"
And this is, at heart, the most fundamental value of Magic: We treat our customers the way we want to be treated.
So we spend a lot of time creating products that truly help nail techs, solving their problems, answering their questions, and providing them guidance through our website content.
Much like the universal Golden Rule, we call this our first "Magic Principle" – We do unto our clients as we would want to be done unto.
This essentially became the foundation of Magic – providing quality solutions to our clients.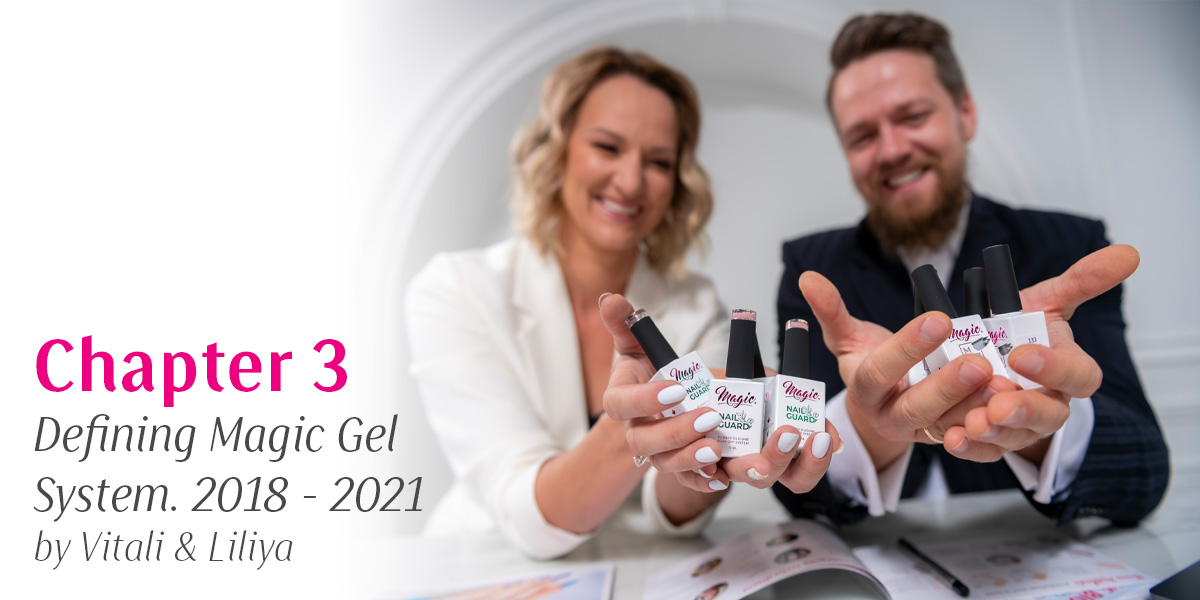 Chapter 3. Defining Magic Gel System, 2018 – 2021

If you want to run a successful company, you need to know your identity and what you stand for.

Early on, we tried to create our identity. We sat down at strategic sessions to do just that, but we didn't get very far. So we decided to just keep doing what we are doing, after all it was working.

After a couple of years, people started asking us, and we started asking ourselves, "What is Magic?"

After thinking about it – it just hit us. Instead of creating our identity at strategic sessions, we should just look at the way we've been doing business.

Firstly, we're a family business. At various points throughout our evolution up to the present, we've had different family members engaged in the business and helping us.

Being a family business translated a lot of family values into how we operate and treat our clients. That that is simply doing honest work that we can be proud of.
Secondly, we want to provide value. Providing value doesn't just stop at making quality products (although it's a huge part of it). Providing value also means being a good neighbor to your community.

We are proud Canadian employers and we love to participate in local events. We found that we naturally tend to gravitate toward local suppliers. All our filling equipment, conveyor batch encoding, vacuum chamber pumps and so on are made in North America.

So, our business identity became very clear. Magic is all about delivering good products to clients, treating them the way we want to be treated and being a good corporate neighbor we're proud of.