Items to Bring
If you got a premium course kit, you would have all the products (including brushes) required for the class. If you got a standard course kit, you would have all the gels required, but have to bring your brushes. If you did not get the course kit, please bring NailGuard builders, brushes, nail forms, cream, glitter colors and essentials (white, black, etc).
Also please have your curing lamp, overhead lamp (if using one), e-file (if using one), implements, wipes and desire to create stunning nail art.
Please have 2 naked nails for in class sculpting.
 
Location and Contact
Holiday Inn Burlington Hotel & Conference Centre
3063 South Service Rd | Burlington, Ontario L7N 3E9 |
Date: November 9, 2019
Time: 9:30 am – 4:30pm
Contact: 1-844-876-2442 x7
YOUR EXPERT EDUCATOR
Get the most out of your class with the internationally recognized Expert Educator!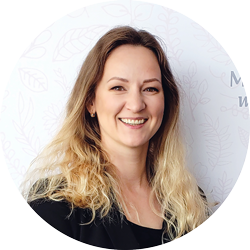 Liliya Saxon
Chief Educator
Liliya is a Chief Educator at Magic Gel System and the founder of Liliya Saxon Nail Academy.
Over the years in business she has taught over 400 nail technicians, participated in product testing and development, judged international competitions and authored a book.
During the class she will be sharing industry tips and secrets she learned throughout the years of being in the industry.
COURSE KIT EXPLAINED
This class will be taught with Magic Gel System as it makes it easy for sculpting without finish filing, eliminating lifting, endless design options and more.
Course kit is not mandatory, but extremely advised, as you want to make sure you are not behind the class because your products take you longer to do the work (on average, 85% of participants get their course kits).
Lightning Fast Shipping
Get your Magic Gels fast!
Commonly Asked Questions
Get answers fast!
What is the curing time?
Gel Paints – 30 sec in 48 watt LED, 60 sec in less powerful LED, or 2 min UV.
Builder Gels – 90 sec LED or 2 min UV
NaiLGuard – 60 sec LED or 2 min UV
The only products that are UV only are Brightening Top, Diffusing Matte Top and Natural Peach Camouflage.